English
ObsPy
A Python Framework for Seismology
Sinprezento
What is ObsPy?
ObsPy is an open-source project dedicated to provide a Python framework for processing seismological data. It provides parsers for common file formats, clients to access data centers and seismological signal processing routines which allow the manipulation of seismological time series.
The goal of the ObsPy project is to facilitate rapid application development for seismology.
ObsPy is used by seismologists worldwide, to conduct their research.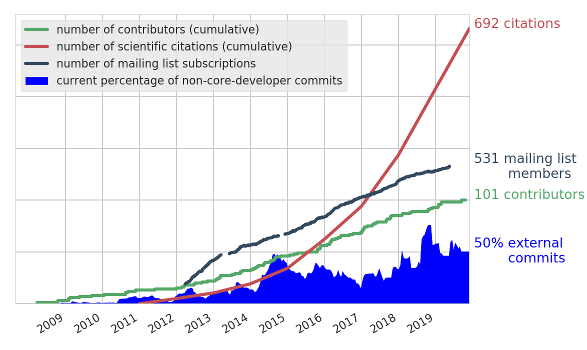 Read more about ObsPy on our GitHub page at obspy.org.
Why your donation matters?
ObsPy is written and maintained by a small group of volunteers. Any contribution will show us that the project is appreciated and keeps us motivated.
What are donations used for, exactly?
The actual main goal is to cover running costs for our rented dedicated server, used for developments, build of packages and hosting of various services such as our community/support forum, test report service, mailing list or online documentation. Every little helps. We have a large user base and community and we hope to be able to spread the weight across as many shoulders as possible with small amounts of donations. At this point, we do not aim at keeping any excess money to ourselves. Should the donations we raise here eventually actually exceed the running costs for our server, we will decide how to use the money in close contact with our community (e.g. funding to host ObsPy workshops, donate to initiatives like NumFOCUS, ...).
Where do donations go?
All donations go to @barsch, who co-founded ObsPy back in 2008. Robert is renting our server, working on our infrastructure in the background and everybody in The ObsPy Development Team is very happy that he is willing to handle the tax/legal matters. Again, not a dime goes in anybody's pocket, we will use everything on infrastructure/activities furthering the ObsPy project. We will publish a yearly overview of how donations were used (Robert has to do it anyway for German tax declaration).
Membroj
Konektitaj Kontoj
ObsPy posedas la jenajn kontojn en aliaj servoj:
Deponejoj
obspy
713
Ĝisdatigita tiusemajne
ObsPy: A Python Toolbox for seismology/seismological observatories.
Historio
ObsPy aliĝis antaŭ 4 monatoj.